It is not uncommon to see headlines of theft in the NFT world. Steven Galanis, the CEO of celebrity video platform Cameo, recently lost a variety of NFTs – one of which was his Bored Ape Yacht Club NFT which he bought last January for nearly $320,000.

On Saturday, Steven Galanis tweeted the theft of Ape #9012, following a bot that prompted him that the NFT had been resold. He originally purchased the NFT for 100 Ethereum, which was roughly around $319,500. However, the thief sold it for only 77 Ethereum or around $130,000.

Galanis also shared on Twitter that he lost many crypto assets, including BAYC-adjacent Otherside tokens and around 9,000 ApeCoin cryptocurrency tokens, currently worth around $66,000. Because of this incident, Galanis appealed to OpenSea for help. Since then, the platform has frozen the Ape in question, preventing the owner – who goes by MonroeSaintJames – from selling it.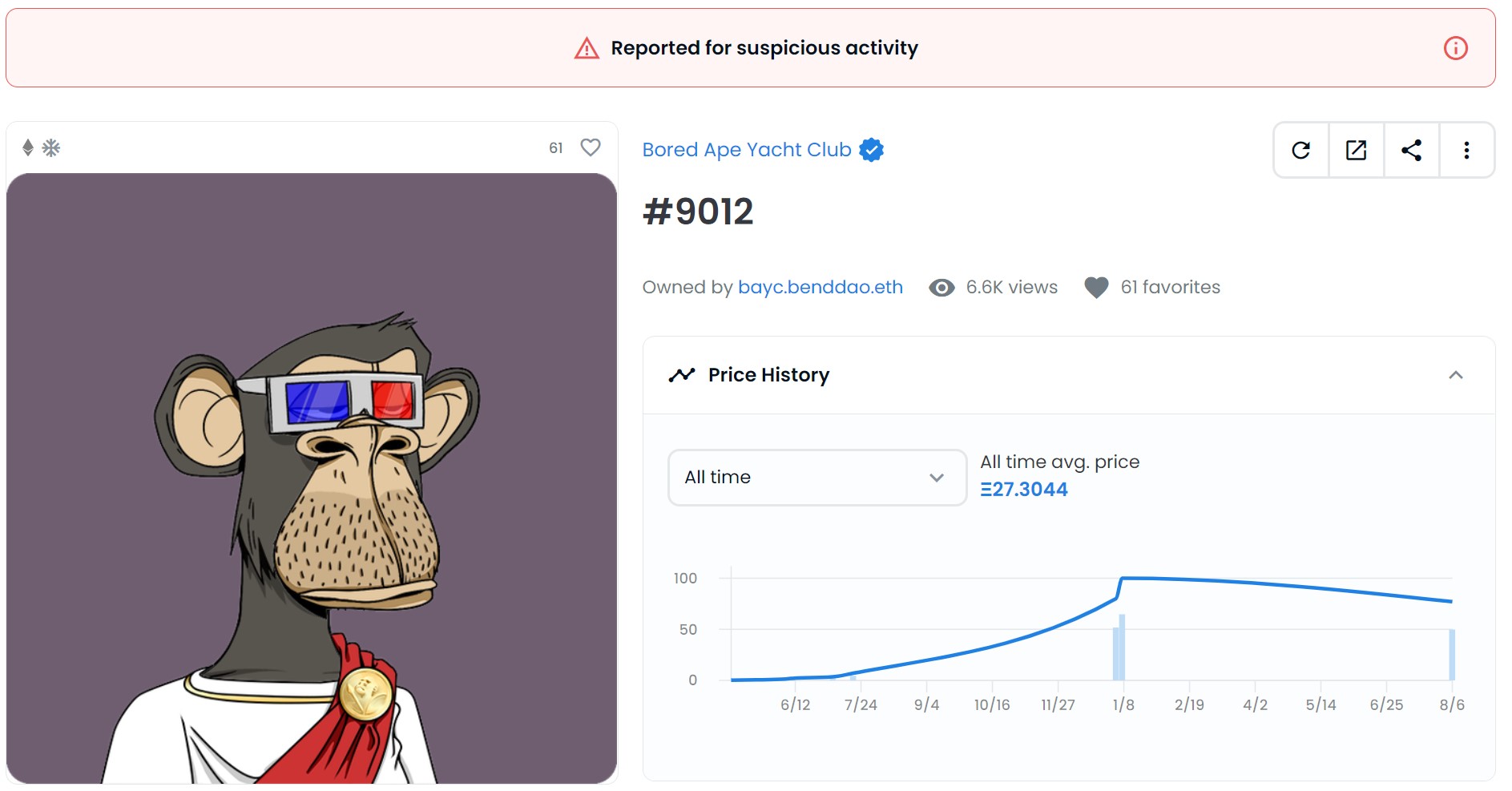 Although there were no other specific details on how Steven Galanis became a victim of a high-profile theft, he shared that his Apple ID was hacked. Some Twitter users suggested that the CEO kept a copy of his seed phrase – which works like a security key that grants access to a crypto wallet – in a service that used iCloud backups, giving the hacker access after logging into his Apple ID. The Verge tried to ask for more details from Galanis, but he was unable to reply via direct message on Twitter.

Although this may have been one of the most surprising news across the NFT space to date, this has actually happened before among several high-profile personalities. As a matter of fact, Actor Seth Green, who is the creator of Robot Chicken, lost his Bored Ape Yacht Club NFT to a phishing hack. He was making his own television series entitled White Horse Tavern based on the same NFT before it happened. The NFT was resold to someone named Mr. Cheese. In June, Green managed to buy it back for about $260,000 in Ethereum.

BAYC developer Yuga Labs also shared that an attacker engaged in a series of phishing attacks on the Bored Ape Yacht Club's Discord server in June, making off around $360,000 worth of Ethereum. This incident adds to a series of attacks throughout the year, making 2022 the year for the priciest crypto theft totaling more than $600 million.

With the recent events that transpired in the crypto and NFT industry, some of the biggest names in the metaverse-adjacent spaces have issued warnings to the public, telling them to become more cautious in investing. As a matter of fact, Epic Games founder and CEO Tim Sweeney on Monday tweeted out to followers to become wary of accounts promoting cryptocurrency for Fortnite before casting shame on marketplaces that he says enable such scams. "Epic's lawyers are on it," shared the CEO.

Theoretically, it is easy to trace fraudulent transactions in the NFT realm but difficult to retrieve. Furthermore, it entails a hodgepodge of transactions that have the potential to dissuade people from ever reversing the ordeal. Thus, when investing in something big in the crypto industry, always keep it safe and take it as far away from hackers as possible. Every crypto expert will tell you to keep your funds in a Ledger to keep them most safe, you can pick one up here.