The Web3 and blockchain space has ushered in a new age for several industries. From finance, gaming, and fashion, to entertainment and the food industry. Many corporate giants are tapping into the rapidly expanding metaverse to connect with customers and reward their enthusiasm. As such, the multi-national coffee chain Starbucks hopes to push the boundaries of the food industry by making a dynamic entry in Web3 as one of the most extensive foods and coffee franchises.

In May, Starbucks announced its latest initiative and planned to employ Web 3.0 in its current rewards engagement model. The world-renowned Starbucks reward program is one of the most successful rewards memberships on the planet and currently has over 27 million followers.

Explaining the upcoming integration of 'digital 3rd place' or community space, Starbucks interim CEO Howard Schultz shared tidbits about the company's long-term approach to Web3 technology during the 2022 3Q call.

He shared, "We are working on an exciting new digital initiative that builds on our existing industry-leading digital platform in innovative new ways, centered around coffee and – most importantly – loyalty."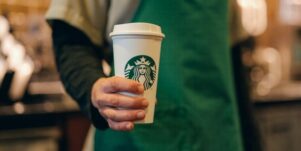 As one of the biggest food franchises in the world, the corporate titan understands the importance of attracting new customers while keeping existing customers engaged and building brand loyalty. The company also realizes that its Millenials and Gen Z customer demographic gravitate around a sense of community, not in the physical world, but the Web3 space.

"This will create an entirely new set of digital network effects that will attract new customers and be accretive to existing customers in our core retail stores," CEO Howard shared.

From all indications, it is clear that NFTs will be part of the coffee chain's emerging digital network. "NFTs allow people to own a brandable, programmable digital asset that also doubles as an access pass. In addition, they see their NFT collections as a "community building element" and a way of "emotionally engaging customers."

"Emerging technologies associated with web3, especially NFTs, now enable this aspiration and allow us to extend who Starbucks has always been at our core," CEO Howard insightfully shared.

However, the company hints at adopting NFT differently than other food chains. "Starbucks NFTs will come with special perks and experiences coalescing around the digital 3rd place," Chief Marketing Officer, Brady Brewer, wrote.

Protecting the environment is vital to the rewards program participants and Starbucks workers, with some expressing concerns about the environmental impact of the latest digital initiative with the coffee-themes NFT collection. In response, the company's leadership assured everyone that the blockchain platform would be carbon neutral and multi-chain to neutralize any environmental impact in keeping with their planet-positive policies.

Starbucks is not the first powerhouse company trying to make a massive splash in the Web3 space and utilize blockchain technology; the company promises to be the best yet with its coffee-themed NFT collection to foster a digital community with access to a wealth of exclusive perks.